SUMMER SIZZLER !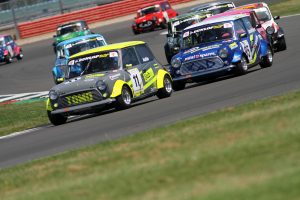 INTENSE MINI ACTION ENSURED THE MG CAR CLUB'S SILVERSTONE GP CIRCUIT MEETING WAS A BLISTERING SUCCESS 
The Mini 7 Racing Club joined its MG cousins for a sweltering weekend of classic race action on 12-13 June, with four fabulous Mini races to keep everyone fully entertained between sunbathing and cold drinks!
Saturday lunchtime saw the Se7ens and S-Class out first, and a hectic battle up front resulted in Joe Thompson taking the 1.0-litre honours out of the last corner having been deflected across the grass but without losing first place, Spencer Wanstall and Nick Croydon-Fowler bagging the other podium positions as Jonathan Lewis lost out on the run to the flag. Michael Winkworth again cleaned up in the mildly tuned 1275 category, more than a dozen seconds ahead of the chasing pack, led by Ryan Taylor at the finish after Matt Ayres lost power.
Some four hours later, the full-bore 1293 Miglias produced an even closer performance at the head of the field, Endaf Owens and Andrew Jordan swapping the lead throughout before the former edged it across the line by just 0.044s, with Rupert Deeth and Aaron Smith right in their slipstream. In Libres, 2020 class Champion Dan Lewis made a winning return in his 8-port, although 'polesitter' David Franks wasn't far behind in his newly built 16v example.
Sunday's massive early afternoon line-up contained Miglias, Se7en and S-Class all together, and again the dicing was breathtaking to watch. Having risen to the front from the fourth row of the reverse grid format, a missed gear was enough to demote Andrew Jordan back behind Aaron Smith and Kane Astin who finished 1-2 by a mere 0.101s, with Endaf Owens right on Jordan's tail after Rupert Deeth dropped out at halfway. Chris Morgan and Sam Summerhayes almost joined the leading quartet across the line too.
The leading Se7ens and S-Class remained unlapped around the 3.66-mile track, and after Joe Thompson and Spencer Wanstall had been eliminated on the opening lap, it was eventually Jonathan Lewis who triumphed ahead of an almost-dead-heat between Connor O'Brien and Jeff Smith, the latter clawing back points after pitting briefly in the previous day's race. Driving car #41, Lewis admitted to a teary moment afterwards as he fondly recalled his 1980 title triumph!  In S-Class, Winkworth's margin of victory was a lot smaller this time, although he still managed to rise from 8th on the grid to lead within a couple of laps, Darren Cox following up his 3rd from the day before with a strong 2nd from Damien Harrington, although Matt Ayres remained 2nd overall in the points.
Finally, to allow everyone a second race on Sunday, the MGCC kindly offered space on the back of their MG Cup grid for the whole Mini Libre invitation class, and despite a delay clearing up stranded cars from the previous race, the Libres put on an impressive performance chasing the 'libre' MG selection from a 10s delay, Dan Lewis storming up to 4th overall before ominous puffs of smoke signalled falling oil pressure, David Franks sweeping past on the last lap to claim full points ahead of Phil Harvey in 2nd.
Further positive news was the continued live streaming during these restricted times for spectator attendance, and the excellent coverage from Silverstone via MySupercar Productions. Next stop on the whirlwind Mini racing tour is at Cadwell Park in Lincolnshire on 10-11 July, for Rounds 7 & 8 in the Dunlop National Mini Challenges supported by Mini Spares.
RESULTS:      Silverstone GP                   12-13 June
Round 5        Se7en + S-Class                  8 laps
1st      80       Joe Thompson -7
2nd     2          Spencer Wanstall – 7
3rd     99       N Croydon-Fowler – 7
10th   728     Michael Winkworth – S
12th   784     Ryan Taylor – S
13th   732     Darren Cox – S
Round 5        Miglia + Libre                     8 laps
1st      32       Endaf Owens – M
2nd     77       Andrew Jordan – M
3rd     23       Rupert Deeth – M
9th      171     Dan Lewis – L
12th   186     David Franks – L
17th   123     Huw Turner – L
Round 6        Miglia + Se7en + S-Class 8 laps
1st      21       Aaron Smith – M
2nd     11       Kane Astin – M
3rd     77       Andrew Jordan – M
16th   41       Jonathan Lewis – 7
17th   87       Connor O'Brien – 7
18th   01       Jeff Smith – 7
26th   728     Michael Winkworth – S
27th   732     Darren Cox – S
28th   711     Damien Harrington – S
Round 6        Libre (run with MG Cup)       8 laps
4th      186     David Franks – L
5th      113     Phil Harvey – L
7th      283     Harvey Death – L
Full results can be viewed at www.tst-timing-com
Provisional  on www.mini7.co.uk
Words: Rich Williamson