For the third time in five seasons the Mini 7 Racing Club earned an invite onto the BTCC-TOCA package, and over the first weekend in June once again proved to be the star performers supporting the headline act, with Mike and Andrew Jordan both recording double victories.
The Se7ens and S-Class runners were first up on Saturday afternoon and from pole position Mike Jordan soon had his nose in front, thereafter battling mightily to stave off a concerted effort from Connor O'Brien to usurp the position. T
here were early yellow flags after Tom Mills' almighty head-on into the Club tyrewall on lap 2, then points leader Joe Thompson dropped out of the lead chase leaving Ross Billison to consolidate 3rd ahead of Spencer Wanstall, Damien Harrington and Darren Thomas.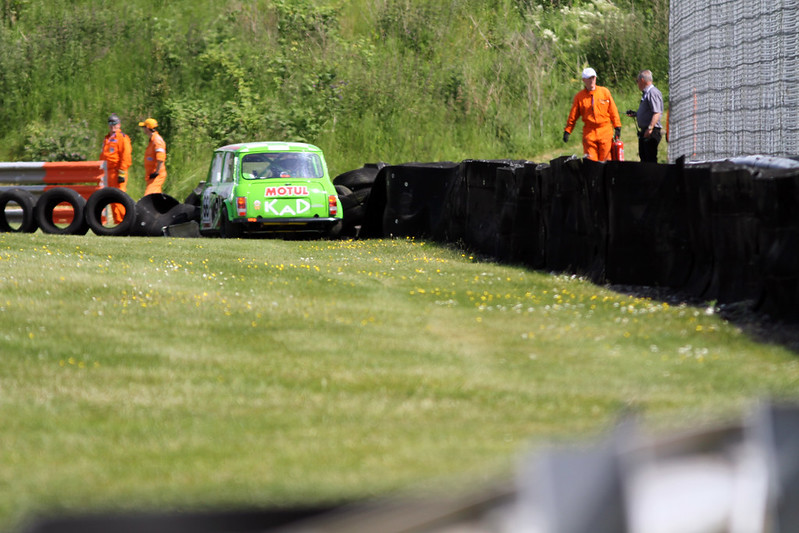 The S-Class result was even closer, Jonathan Page initially claiming the spoils ahead of Frazer Hack and brother Matthew in a last-gasp, last-corner bid, but a route across the chicane grass after a sideways moment later incurred a 0.2s penalty to reverse the top two places.
Arguably the Miglia race a couple of hours later drew even greater plaudits, with a seven-car swarm exchanging places freely throughout.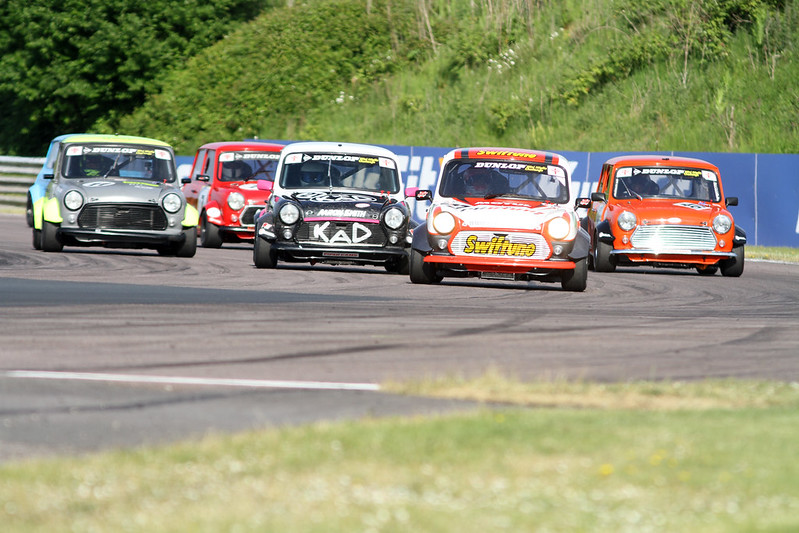 When it mattered though, Andrew Jordan sneaked ahead into the chicane, pipping Aaron Smith to the chequer by just 0.239s with Kane Astin grabbing the final podium spot ahead of Jeff Smith, Colin Peacock, Phil Bullen-Brown and Rupert Deeth.
In the Libre class, Josh Evans got the better of Richard Colburn when passing the midfield Miglias, Julian Proctor leading home the rest of a strong entry.
Sunday drew not only more of the same weather for cold drinks and ice cream, but also a massive BTCC crowd to perform in front of, and neither Mini race failed to wow them. This time around, Jordan senior had to work his way to the front from row 4 but once there again had O'Brien glued to his tail, unfortunately for the latter a nose-to-tail tap in the chicane holing his rad which cooked the engine.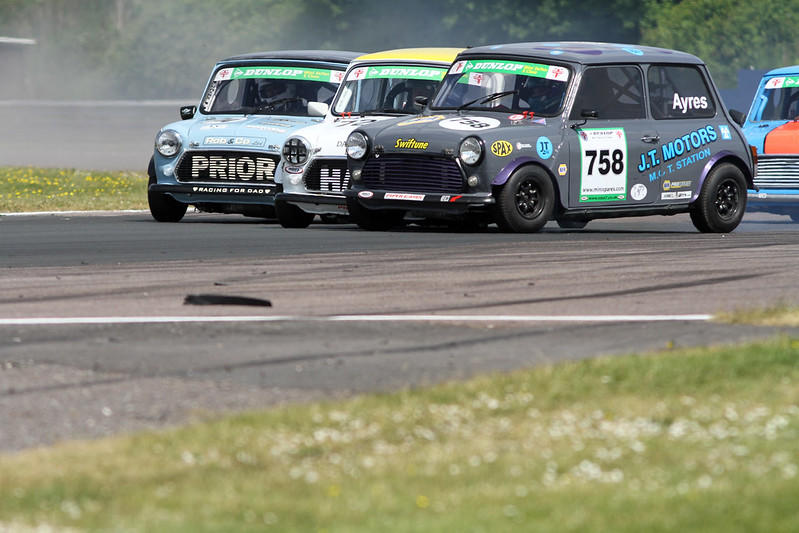 Billison took up the chase but fell short by just under half-a-second, with Wanstall 3rd. Jonathan Page got his revenge in the S-Class rematch, this time Fraser Hack losing several places 'at the death' as Chris Prior, Matt Ayres, Ben Butler and Lee Poolman all joined in the last corner bomb burst. Hack junior had the consolation of a new S-Class lap record, as did the overall Se7en winner.
If that wasn't excitement enough, the second Miglia encounter pretty much mirrored the previous day's spellbinding show, albeit with Scott Kendall joining in with the elite pack which sadly lost Astin at 2/3rds distance with a sick motor.
Even with late yellow flags the result was in doubt right up until Jordan junior held the line through the chicane to outdrag Jeff Smith to the finish by 0.143s, Aaron Smith edging Deeth and Kendall to claim 3rd. Evans looked all set for a Libre double before a late gremlin saw him pull off, leaving Colburn in front but Huw Turner had other ideas and gamely snuck past on the last lap as Les Stanton shadowed both in 3rd.
After four superb races on such a prestigious bill, and with applause ringing all around, not to mention huge captive ITV4 audiences, it couldn't have been a better audition for a further invite in the not too distant future? Next up in early July, the long-awaited return visit overseas to Zandvoort in Holland for Rounds 9, 10 and 11 in the Dunlop Mini Challenges supported by Mini Spares
Thruxton3-4 June
Race 1            Se7en/S-Class            13 laps
1            88            M Jordan                        7
2            1            C O'Brien                        7
3            49            R Billison                        7
9            725            F Hack                        S
10            706            J Page                                    S
11            703            M Page                        S
Race 1            Miglia/Libre                        14 laps
1            77            A Jordan                        M
2            21            A Smith                        M
3            11            K Astin                        M
12            474            J Evans                        L
13            219            R Colburn                        L
17            595            J Proctor                        L
Race 2            Se7en/S-Class            13 laps
1            88            M Jordan                        7
2            49            R Billison                        7
3            73            S Wanstall                        7
10            706            J Page                                    S
11            714            C Prior                        S
12            758            M Ayres                        S
Race 2            Miglia/Libre                        14 laps
1            77            A Jordan                        M
2            46            J Smith                        M
3            21            A Smith                        M
14            123            H Turner                        L
15            219            R Colburn                        L
16            133            L Stanton                        L
Words: Rich Williamson